Heated Laminate Floors
Considering the Installation of a Radiant Heated Laminate Floor?
Radiant heat can also be easily applied to warm laminate flooring. Because laminate floors are so versatile and common, several radiant floor heating systems have been designed to safely and effectively heat these types of floor surfaces. Available in a wide range of attractive patterns, laminate flooring can closely resemble the beauty of tile as well as hardwood floors.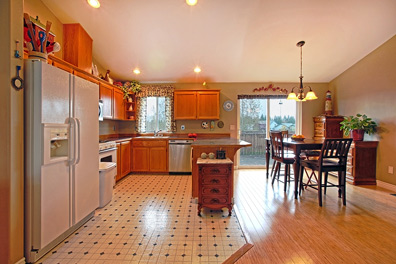 Although laminate wood flooring looks very similar to genuine hardwood flooring, there is actually no solid wood used in its construction. Rather, laminate floors are made up of several materials bonded together under high pressure.
Most laminate flooring consists of a moisture resistant layer under a layer of high density fiberboard (HDF), and topped with a high-quality photographic image of natural wood flooring. The surface is then finished with a hard, clear coating made from special resin-coated cellulose that protects the floor's surface. Laminate floors are generally very durable, and the dense center core has very good stability, so the flooring can safely be installed over a radiant floor heating system. However, it is always a good idea to check with the laminate flooring manufacturer prior to making any purchases for a heated floor system.
Radiant Floor Heating Systems Recommended for Heating Laminate Floors



COMFORTTILE is Warmzone's most universally recommended floor heating system. The CT mats include a thin heating cable that is placed on a flexible fiberglass mesh backing with adhesive so it can be rolled out and then secured to the subfloor quickly and easily. This helps to save money by reducing installation time. The floor warming mats are pre-terminated for use with 120 and 240V, and are available in various lengths, heating an area 24-inches wide.




ComfortTile floor heating cable is just ⅛-inch in diameter, so very little floor build up is required. ComfortTile systems come complete with a GFCI protected thermostat and strapping to secure and properly space the heating cable. All sizes and adjustments of cable spacing and coverage can be made on-site. The twin conductor heating cable is matched with premium materials, enabling the ComfortTile heat cable to provide superior floor heating performance and fast response times.

STEP FLOORHEAT - is another thin, low-profile heating element, but is also low-voltage. The versatile system can be installed under any material, ranging from hardwood floors to shingle and metal roofing. No other radiant heating element can match its characteristics. The radiant heating system utilizes a self-regulating semi-conductive polyethylene heating element that is used for new construction as well as retrofit applications. Warmzone FloorHeat is installed directly under various types of floors, and even in thinset when installing under tile. No additional floor buildup is required when heating floors with FloorHeat.




FloorHeat is a safe low-voltage product for practically any application, so it can be safely nailed through (such as in roofing applications) without damaging the heating element. Like RetroHeat, FloorHeat can also be installed between floor joists to provide radiant heat for existing floors.

HEATSHIELD features lightweight insulated aluminum panels with channels for the heat cable. HeatShield floor heating insulation panels boast a remarkably efficient radiant heat solution that is ideal for heating hardwood floors. The system consists of lightweight, heat-reflecting panels that radiate the heat upwards to the surface of the floor while providing insulation from the ground. There's no need to embed the heating cables in a mud base with HeatShield Panels. Simply place the insulation panels on the subfloor, press the ComfortTile heating cable into the grooves provided and lay the hardwood or laminate floor directly on top.




HeatShield floor insulation panels consist of a ½-inch thick polystyrene insulation covered with a thin, specially profiled aluminum. The panels ensure maximum upward heat distribution that significantly reduces energy consumption as well as downward insulation and optimum upward heat distribution that significantly reduces energy consumption. HeatShield Panels are so efficient that you typically only have to run your floor heating system for a short period of time, which further saves you money.